Talking to Wellness people that care, is always fun for me. And even more fun it is to share these insights with you. Today, this is about yoga businesses.
I have been in touch with Alex & Alex for a few months, because I am using their teacher admin tool called Ubindi to organise my own yoga classes.
I want to know more about the people behind Ubindi. And here we go, my questions to the two, who are both called 'Alex':
Alex&Alex, you started Ubindi in 2019, an admin tool for yoga teachers to easier organise their InStudio Yoga Classes and Yoga Businesses. Not long after, you were facing the challenge of adapting Ubindi to Livestream classes.
Yep, we started working on Ubindi in the summer of 2019. And it was ready to go live at the end of March of 2020…
Bad timing! Right at that moment, covid19 pandemic and associated lockdowns hit yoga businesses very hard… Pretty much every yoga studio and gym around the world was forced to shut down and we thought: "good grief — Ubindi is over before it even got started!" Ubindi was originally designed for in-person classes. We envisioned teachers using it on their phones while teaching in crowded rooms in front of real people. But we only panicked for a day or so… and then got down to work. We realised that we had to adapt (just like everyone else)… So we quickly built features to support online (livestream) classes and then launched Ubindi a month later. 
Ironically, the terrible disruption caused by the pandemic would turn out to mean that it was exactly the right time to launch Ubindi… because with all the venues being shut down, teachers were pushed into going independent and taking their yoga businesses online. And that also meant they needed  and were looking for new tools to help them manage things! 
Ubindi was designed for independent teachers from the start, and the pandemic changed the whole landscape in the yoga market to be much more teacher centric. With venues down, and with everyone going online (for everything, not just yoga classes), teachers are now in the drivers seat much more than before. 
Is there an interesting moment about how Ubindi was created first?
Before Ubindi, Alex and I co-founded and ran YogaTrail. We recently resigned from but which is still the largest yoga portal on the internet. So Ubindi started off as an attempt to re-design and re-build YogaTrail (which was not mobile responsive and is built with a lot of outdated tech). But after getting into it, we quickly realised that that would be a monster undertaking. It would cost at least a ton of money just in development. And probably take years to complete. So, we decided to narrow our focus just on teachers and build something that empowers them with just the essential tools they need to run their yoga businesses. Keeping things as simple as humanly possible. Doing just that one thing (admin for teachers) really, really well. So this became a completely separate project. Which we now call Ubindi. 
What are your future plans with Ubindi?
Our ultimate vision is that Ubindi will help millions of independent teachers to share their skills and passions and earn a living with their yoga businesses that way. Right now, most of the people using Ubindi are yoga teachers. But the platform actually works for ANY kind of teacher. Anyone who runs classes of any kind and needs to handle registrations, attendance, payments, passes and memberships, video libraries and general student or client management stuff. 
So we are on a mission to empower people to do what they love and share it with people who want to learn… It can enable someone to make ends meet with some extra income by teaching only a few students. Or Ubindi can be the key for an instructor to make a very good living as entrepreneurs with their teaching business. We also think this is especially important now, because the world economy will be facing some very difficult challenges in the coming years.
What sets Ubindi apart from other admin apps?
Ubindi is designed for "the little guy", i.e. instructors who are not super tech-savvy, who are not "influencer" social media stars, and who don't need or want big and complicated software. Most of the admin solutions out there are products for managing a gym or studio, so they're designed for bigger yoga businesses. For example, MindBody Online is the one everyone knows, but there are literally hundreds of similar things out there… but they are all way too complicated and much too expensive for a single teacher. So what sets Ubindi apart is that it aims to serve independent teachers (who are really micro-entrepreneurs) with an intuitive all-in-one solution that is easy to use and doesn't cost very much.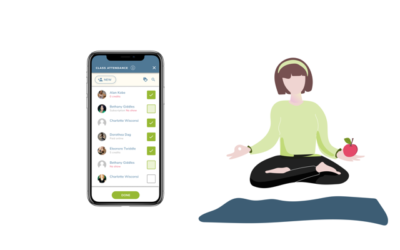 How is online/livestream teaching changing the yoga world?
Before answering this question, we want to point out that with all the crazy changes that have happened in the yoga world (and in the world generally), the fundamentals, i.e. the basic ingredients that go into the yoga market, well they haven't changed at all.
There are still hundreds of millions of people who want to practice yoga with a teacher. And there are still lots of wonderful yoga teachers out there who are eager to share yoga with people.
What has changed, particularly in light of the online thing, is that brick and mortar businesses (yoga studios) have been devastated. Even before the lockdowns, it was hard for them… lots of competition, huge overhead… but now going forward, with online classes being so well adopted, it will be especially difficult for brick-and-mortar venues. Covid will (hopefully) soon be over and forgotten… government restrictions and social distancing will (also hopefully) be a thing of the past, and people will no longer be afraid to crowd together, touch each other, etc. — however, online yoga businesses are not going to go away. In fact, things were already moving in that direction in the past several years, with more and more people going online to do almost everything.
Personally, we think that many people are spending way too much time online, and it's sad to see half of humanity constantly burying their face in their phones. But it is what it is… whether online yoga is a good thing or a bad thing almost doesn't matter. We just have to adapt, and with any changes there are always pros & cons. "Every cloud has a silver lining", and there are some great positives that come with the changes we're seeing.
Advantage of Yoga Classes online for the Micropreneur Teacher
The biggest positive is that online teaching is a massive opportunity for all yoga teachers and yoga businesses. Alex and I believe that it's actually the dawn of a new era, where teachers have much more control over things. Online, they can really teach exactly what they want in the style they want. Studios cannot really offers this, where rooms have to get filled up with yogis who live nearby, and the name of the game is to appeal to the largest number of people… and so the flavour of yoga classes has to be "vanilla" for example.
Teachers can focus on teaching to their ideal clients. Those people who will really resonate with the unique offering that each teacher can bring. There are literally billions of people using the internet. It no longer matters where a client is located, teachers can actually attract these "perfect clients" in large numbers.
There's almost no limit to how successful a teacher can become. All revenue from class registrations and memberships flows 100% to the teacher. For example for in-person classes in the studio model, the studios can take in an average of 80% of all revenue. Lastly, a teacher doing live streams can lead a wonderful class just from their living room. This comes without having to travel all over town, running from one place to the next to teach different classes in different places.
Challenge to Yoga Online Classes
Of course there are challenges and negatives that come with virtual classrooms, especially in yoga. No adjustments, maybe less of a sense of community… But we've spoken to hundreds of teachers who say that the community aspect is just as strong in Zoom sessions. Especially if a bit of social time is provided after class. And many teachers report that they actually feel more able to focus on individual students in a video chat room. Every individual has a screen that the teacher can observe and zoom in on…
So instructors are telling us that it was a problem previously in a crowded room where people in the back really weren't getting attention. But with the online format they are really able to see everyone better. And make sure nobody is being neglected. 
Alex & Alex, what are your backgrounds?
Boy Alex has a background in science. A long time ago, before we embarked upon our entrepreneurial journey, he worked as a physicist in the field of nuclear fusion. Girl Alex is at heart a languages & books nerd, and she had a big career as an editor in major publishing houses. Neither of us teaches yoga, but we did both teach other things like gymnastics, math, and languages. Our relationship to yoga is just as practitioners, especially Ms Alex who still practices regularly. 
You two recently moved to Patagonia, how do you experience life there?
Indeed, we only arrived here a few weeks ago… but we're totally in love with the place already. For Girl Alex, it's "especially special" because she has family ties here that go way back. Patagonia is one of the most beautiful areas that we've ever seen. And we've seen quite a lot of the world. All the people we've met so far are ridiculously lovely, warm and friendly. We are in a small village in the largest national park in the region, smack in the middle of some spectacular nature. We live and work in a small cottage in the mountains with our dog (Chuli) and it's very cozy. In short, life is great!
Since Ubindi is a website and 100% online, we're really lucky to be able to live and work from pretty much anywhere. As long as there is good internet. Our time zone is just an hour off from the East Coast in the States. And while the company is incorporated in the US, actually none of us are currently in the States. So the Alexes are now in Argentina, and our tech team is in Poland.
My final question to all my interview partners is always: What is Wellness to you in your daily life? Do you have a personal tip for the readers?
Girl Alex: for me, wellness, especially in the last year, has become about building good habits that I can realistically sustain. Things like getting enough sleep, eating lots of fruit and veg, meditating, talking daily long walks, and getting on my yoga mat a few times a week. I try to focus on what I like to do, rather than what I should do, so that I don't add any guilt into the mix.
There's always lots of room for improvement of course, but I don't pressure myself. In dog training there's a great concept of 'setting your dog up for success' when you train something new. I try to do that with myself too! What Alex and I decide to do for ourselves always comes from an authentic ongoing reflection process. Rather than a 'new year's resolution' type of thing. 
Boy Alex: I like to do pretty intense physical exercise (gymnastics 2 to 3 times a week). But I also balance that out with pretty intense relaxing and enjoyment (like eating a lot, enjoying a beer, and not worrying obsessively about always being healthy). Wellness for me is really about feeling well, so it's not just "diet & exercise", which are words that are kind of associated deprivation somehow… so wellness is very much about enjoyment. 
Also, some of the biggest aspects of "wellness" for both of us have to do with mental health… not comparing ourselves to others, not worrying too much about what one is supposed to do, what others think one should do, etc. And so it also means eliminating "mental pollution". For example, neither of us uses social media. Even for Ubindi we have just have placeholder accounts on Facebook, Pinterest, Twitter, etc.
A tip we could share, is whatever you want to do or start doing… just do it! Don't overthink, over-research, or compare yourself too much. Planning a little is good, but planning too much just leads to disappointment. Because 99% of the time, things don't go according to plan. Start doing, learn as you go along, and always enjoy the journey! 
Thank you so much Alex&Alex!

Now dear reader, would you like to see how Ubindi works?
Check out this short video: 

Interested in signing up with Ubindi?
Ubindi currently runs a referral program. When I refer another teacher to Ubindi, we both get $10 credit on Ubindi. All teachers are welcome — yoga, fitness, music, art, languages, …
So if you want to take your yoga business furthert, feel free to use my referral link to sign up with Ubindi. Ubindi is free to teachers in a basic version, which actually works totally fine for me.
It may look like I am an affiliate with Ubindi. The link earns me a 10 USD credit on Ubindi (no cash payout), should you choose to sign up via my referral link. While I believe in the company and product, I have not written this interview with any bias. I have provided relevant information so that you can make an educated choice for yourself.