I have been faithfully holding on to a refillable PVC water bottle for years. But it is time for a new one, as the lid is now leaking. I won't get rid of it just yet, as it can still serve a few purposes. But for travelling around, I need a better water bottle especially when going for yoga classes.
So I have done my research for water bottles made with a sustainable approach. Is it not not only about avoiding disposable plastic, but equally important to look into manufacturing processes and materials when purchasing new things?
My star sign is cancer, one of the water signs. 
I …
…love water, to drink, to soothe, to renew, to heal.
…love to sit by the ocean and watch the spectacular nature event of a sunset.
…cant get enough of observing waves rolling in to the beach.
…enjoy the gentle flow along banks of a river.
…know of the healing powers inhaling the mist of a waterfall in the mountains.
Who doesn't.
And I worry a lot.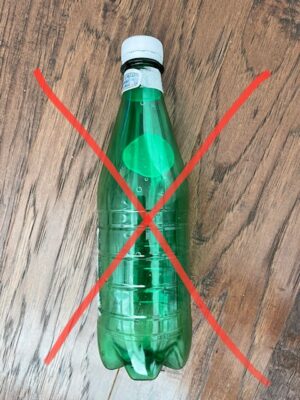 Water is going to be one of the most precious commodities of the future. We are going to run out of clean drinking water some time. Droughts, famine, and climate change everywhere is going to be real for generations after us.
This article is a small act of inspiration. I would love for everybody to think about water consumption and conservation even more.
I believe the biggest killer is bottled water. Not only are disposable plastic bottles one of the biggest contributors to environmental destruction, but also are they not useful for our health in general.
Here is what I think: 
My Big Boy
I have a water bottle from Yeti, and it is heavy duty. Literally, as it weighs about a kilo… It has the largest content in my collection, and I always use it when I need a big supply (for example a long day out in nature). For daily use, i.e. taking it to the yoga studio, I find it unsuitable though.
It is insulated, so I can keep hot and cold liquids.
Yeti is known well by outdoorsy people, they make coolers and stuff too. Love the wide top opening. Great for ice cubes (just saying GT on the beach).
The Narrow
Sigg bottles were the first ones to catch my attention some 30 years ago, when I needed bottles for my kids to take to kindergarden. As long as you only fill them with water, you are fine. I find the narrow bottleneck a little challenging. Yes, it is very comfortable for drinking straight out of the bottle, however cleaning is more difficult. The advantage of narrower bottles: they fit better into car cup holders!
Twisted Silikon
I found these during my research: the twisted que water bottle. 
I love the fact that the bottle shell itself is soft and gives in when you have to squeeze the bottles into something. The design allows the bottle to collapse to a smaller size, or extend to a larger size. However you have to be careful drinking from them, don't squeeze to hard (something my little grandson loves to do of course, just for the fun of it). 
Light Weight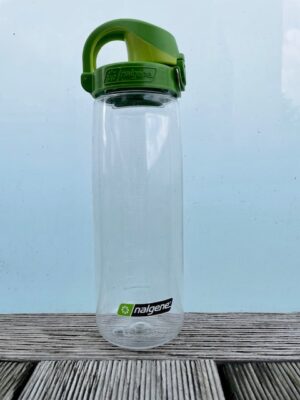 I have a few simpler bottles too, like this one from Nalgene. Big advantage: light weight! Disadvantage: not insulated. I like to take these kinds for hiking on days, when it is not too hot outside, so insulation does not play a major role. 
The narrow tall bottle fits better into the outside pockets of my backpack and I can open the cap with one hand. I have another 'fat' one, that does not really fit into anything, plus I need both hands to unscrew. I would definitely not purchase that kind of shape ever again. 
My Fav water bottle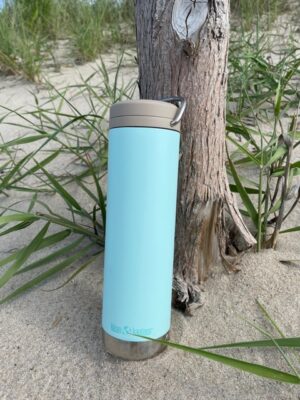 And the winner is: KleenKanteen. I have been using it for a couple of days now and cannot find fault. Love the colour, the material and feel, the insulation, the twisted cap with straw, the shape. 
We currently have over 36C/100F degrees outside in Delaware, and I have left the bottle with cold water sit in the hot car for a while. And was not disappointed when I needed a cold refreshment on return.
A little hick-up though: I need both hands to open the twist cap.
Yet I hope it can stay with me for many years to come!
Tell me about your water bottle. Which one do you take to yoga practice or your workout? I always looove to hear from you via anja(at)talkwellness.at.

Further brands to name a few, that I have not tested myself are byta, bkr, mira, yuhme, purist, soma, larq, bobble, welly, treetribe, korwater, fressko, stojo.
I know it is a pain the [insert your favourite body part], but I have to mark this article as 'advertisement'. For legal reasons, as I mention brand names. I would like to confirm though, that I do not take money for my reviews or any article for that matter. Sometimes manufacturers will give me test products for free, sometimes I purchase them myself. However I do not take money for my opinion, as I choose to stay brand independent, truthful, and be able to express my view authentically.