Seezeitlodge – a Weekend Getaway in my old Homeland
Before I tell you about my Wellness weekend getaway in my old homeland, there is a little story:
About 12 years ago, I went for a job interview to Hamburg in Northern Germany. A large medical clinic was planning on offering their medical services in a more wellness oriented fashion, and was looking for a Wellness Director.
The meeting was a total disaster. I sat at a huge meeting table in the middle of one of the long sides, facing my '12 judges' across. Partly semi-gods in white, partly power demonstrating managers in stiff grey suits. Males only obviously.
I did not cope well with the situation. Sold myself badly, mumbled, had nothing clever to say.
The men were particularly interested in my travel experiences during the interview. 
So when we ended the meeting, one doctor asked me: "tell me, what is your secret tip and favourite place for a vacation?"
I answered: "After having traveled around the world, I feel that beauty also lies nearby. You should try out places in your home country, like the area of Saarland in the South-West of Germany".
You should have seen the belittling looks in their faces! They could not rush me out of the door fast enough. We are talking about a time, where over 60% of Germans would travel abroad for their vacation, despite the 2009 financial crisis. And we are talking about destinations not only within Europe such as Spain or Italy, but also more exotic like Turkey, Thailand, Costa Rica, Egypt, or the Seychelles.
How different my suggestion would sound today. Not only has 'staycation' become a term over the years since, but also after the recent limitations that we have had to experience as to travelling freely, vacationing in your home country is not so odd after all today.
So let me take you to a lovely area, that you may have heard very little about until now.
What and Where is the Saarland?
The area of Saarland – the smallest state in Germany -, where I was born and raised, has interesting history and facts. 
Wedged between Luxembourg and France, the Saarland is a very green state: a third of its entire surface is covered with mixed forests. This makes it the largest forest area by percentage within Germany! According to Greenpeace, the Saarland is also no 1 in Germany when it comes to protecting their forests.
Saarland is foodies paradise! The locals are passionate about their beers, wines and food. Local specialities are a mix of hearty 'Grandma-style' meals with a touch of French finesse. No wonder there are several Michelin stars restaurants! The locals have their very own 'savoir vivre' style, embrace their partly French identity. And love the idea of being a melting pot of different cultures.
No wonder, the Saarland is the only German state in which French is a mandatory subject in schools.
This is likely owed to the fact, that politically, the Saarland has had some interesting developments: it became German territory in 1935, only to fall to the French after the 2nd WW ended. In 1947, the little Saarland was partly autonomous, with their own currency, national football (playing Germany twice) and own Olympic teams (in 1952 in Helsinki). A 1955 public referendum decides its future: in 1957 the Saarland became part of Germany and has been since.
With the Ironworks in Völklingen https://voelklinger-huette.org/en/, the Saarland has their own World Heritage Site! Plus, it is home to Villeroy&Boch, a world renowned ceramics manufacturer.
What else? 400 km of hiking trails, beautiful river Saar, scenic little villages and larger towns, great biking, panoramic views, cultural events, socialising…
Weekend getaway in my old homeland by the Lake

 
One of the natural gems in Northern Saarland (by the way: first German state to be issued the certificate 'TourCert' for being a sustainable travel destination) is the Bostalsee, or lake Bostal. 
It is a popular recreational area for wind surfing, sailing, biking and hiking, with a 6.8 km path around the lake.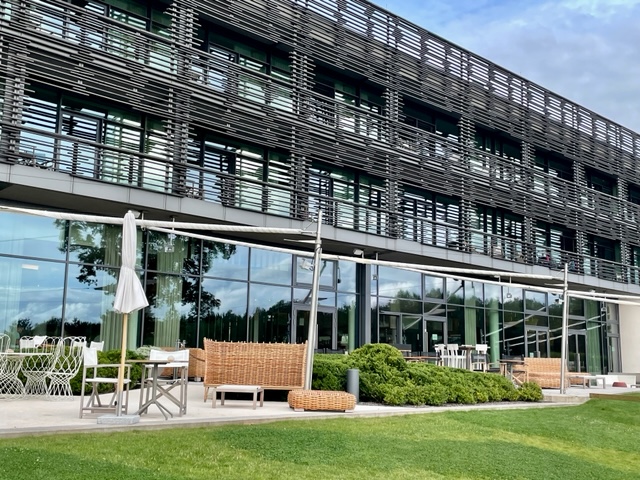 The Seezeitlodge
Several accommodations are available near and around the lake, and we have opted fo the Seezeitlodge, a 4*S Wellness Hotel. It is about 45 min Autobahn ride to the city of Saarbrücken.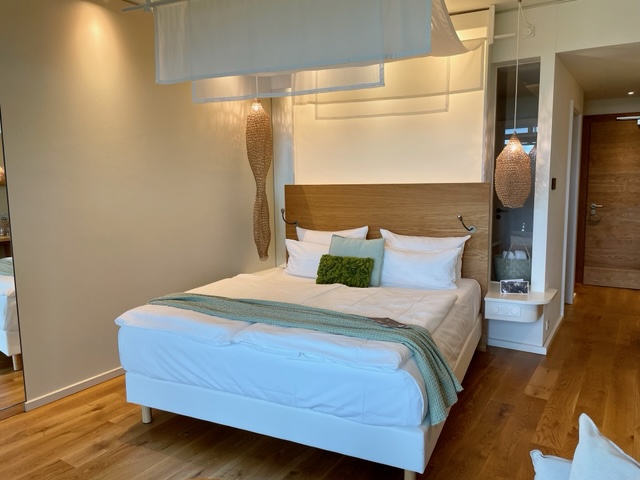 I loved our standard room in a modern and light design (much like the rest of the hotel). Not huge, but comfortable enough for a couple's weekend.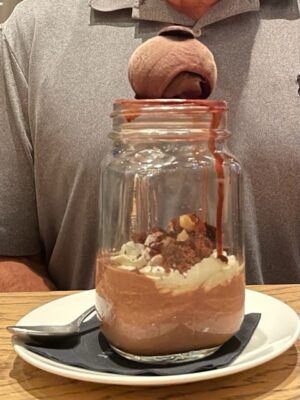 Both of our four course meals at the hotel's restaurant were amazing. However beware: book in time, as the restaurant is very popular and can be quite busy at times.
The bar – located in the hotel lobby – is right in the middle of everything. Lively and busy, fun to spend some time for a sundowner or aperitif. Unfortunately the weather was not favourable during our stay, so we never got to enjoy the spacious terrace facing the lake.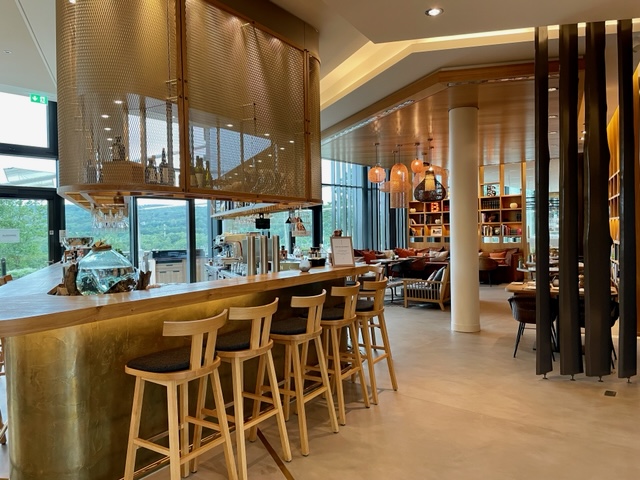 However my husband was super happy when he got to take his golf club out of the car for a little putting on the green.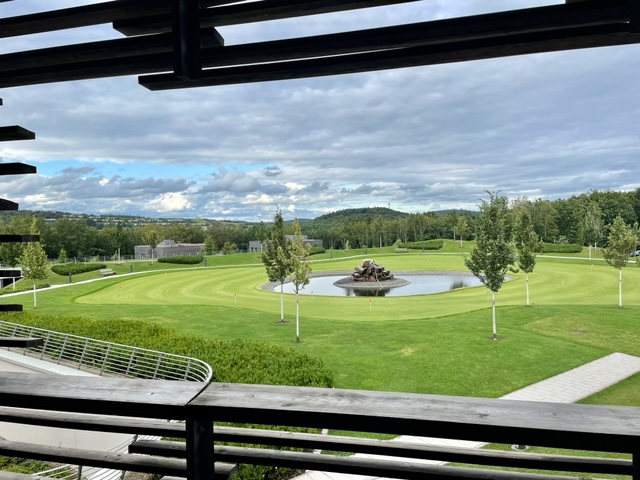 Spa Time at the Seezeitlodge
Let's come to the my highlight at the Seezeitlodge. It has to be the Celtic Sauna village, located outdoors and next to the hotel. Several Saunas in different small chalets are nested in the beautiful natural surroundings.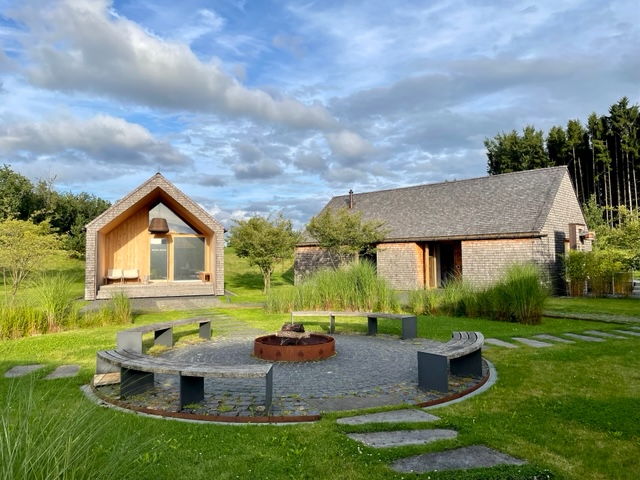 On top, the hotel offers what the Wellness person desires: Yoga & Meditation, pools and relax rooms, quality treatments and forest bathing.
So if you ever get a chance to travel to my homeland Saarland, please let me know about your experience!