If you want to know how to find a sunny fall afternoon getaway during a Colorado road trip, this article is for you.
I love Skiing. I started downhill skiing as a child and consider myself a confident skier. Switzerland, the French Alps, The Italian Dolomites, and now Austria… I am very fortunate to experience many of the great Ski Resorts around Europe.
I even got to Ski one single day in Finland once, back in the 1980s… Naive as we were at the time, we booked the trip for January, as the rates were super low and it was the only slot we could really afford. Little did we know how cold it gets there in January. So cold even, that the ski lifts had to close, and we had to sit in the cabin by the fireplace all day…but that is a story for another day maybe.
And now: Colorado! A long dream of mine and promise of my husband, who used to life in Colorado Springs for a while as a young man and long before we got married. "You have to see the majestic mountains, feel the dry and powdery snow, swing down the wide slopes!" he keeps telling me.
So lets do it! We are actually on our way to Utah, however we find the flight into Denver most convenient for our purpose. On our car ride to Utah, we stop at the Four Seasons Ski Resort & Lodge in Vail for a night.
It is off season and so we find Vail, located right on the highway, very quiet. Many shops are closed, few cars in the streets, even fewer pedestrians.
The Room
As we arrive mid day, our room is expectedly not ready, and so we make it to the bar, that has a lovely terrace facing the afternoon sun and mountains. At this time of the year, the land is speckled with bright yellow colour. The hardy Aspen trees have put on their fall coats and it is an incredibly beautiful sight!
Eventually we get to explore our room: nice and spacious, great day light, a generous bathroom with a good layout, a cosy private fire place, and a little balcony with mountain view.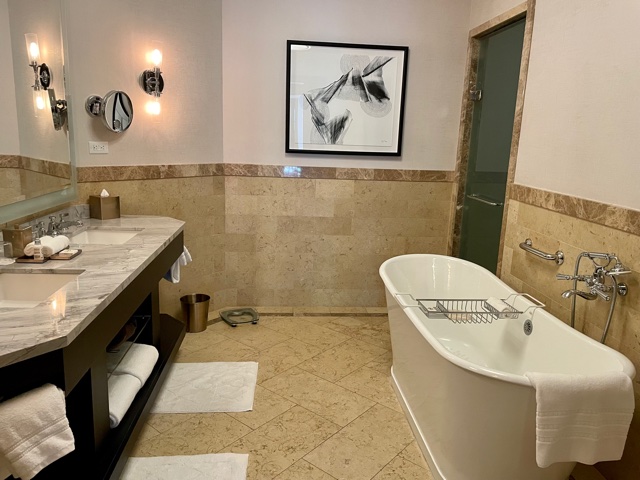 The interior design is modern, alpine, stylish, elegant, reduced, feel good.
Outdoor Pool and Spa for a sunny fall afternoon getaway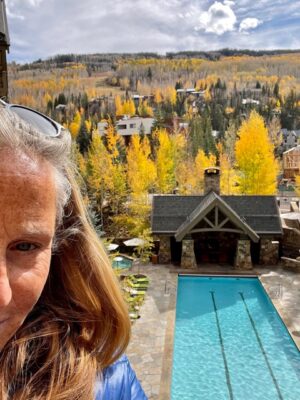 I had been watching the pool from the bar deck all afternoon, and it had such an inviting look that I am tempted. Outdoor pools in fall and winter are not exactly my favourite, I hate being cold. And cold I get very easily. Of course the water is heated, yet I still have to get out after swimming into the cold air, as there is no indoor exit. I know, I am a sissy when it comes to that, and even a towel heater nearby is not cutting it for me.
So dipping my big toe is as far as I get, but two Jacuzzis with massage jets make up for it. As I soak in the warm water and admire the vegetation, and mountains, and blue sky, I can picture how great this pool and spa visit must feel after a long day on the slopes.
I am ready to look for the Sauna. On our way, we come by a nice and well equipped fitness studio.
We check in into the Spa, where identical gender separated facilities await us: spacious changing and shower areas, a tiny ladies relaxation room, a further Jacuzzi, the Sauna, an (out of order) steam room, and a larger relaxation lounge where I can meet my other half.
I like what I see and realise how fortunate I am as there is only one other lady around. I bet that is very different during high season! Yet the many indoor and outdoor fire places must make this place super cosy in winter.
The Spa Retail area has the usual lounge wear, small jewellery items, and skin care products. You can find brands such as Eminence, OM4men, Knesko, Natura Bissé, European Spa Source, and more.
My favourite gimmick: the Pure Eucalyptus ShowerSpa Mist, in a spray bottle inside the shower cubicle. Spraying downward, the mist rises with the steam of the warm shower water. Very relaxing, cleansing the refreshing! Reminded me of the shower tabs that I have written about previously.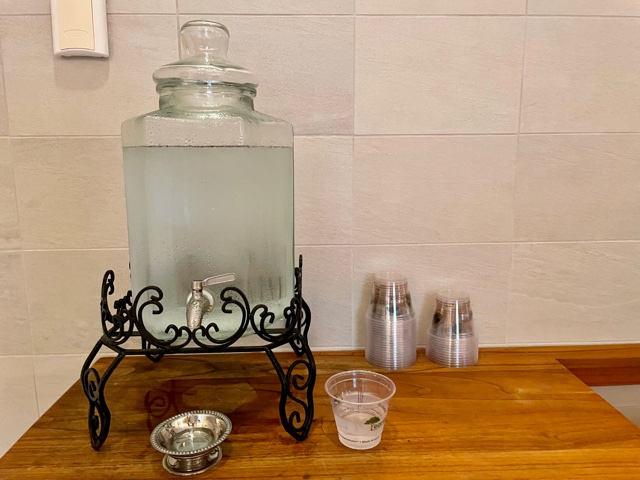 My least favourite: as in many Spas, drinking water is provided. In disposable plastic cups…. Common people, you can do better than that, especially in an upmarket hotel and spa environment!
Dine & Wine
After our relaxing Spa visit, we are not ready to doll up for a fancy restaurant, so we go back to the bar, where we have great food!
The hotel's restaurant looked tempting too though, but will have to wait for another visit someday.
The next morning, we take a little morning walk around the lovely small town of Vail, and hit the road early after a simple coffee in the hotel lobby.
What a great place for a sunny fall afternoon getaway in Colorado.
I am ready to come back in winter, now, I want the full winter experience!